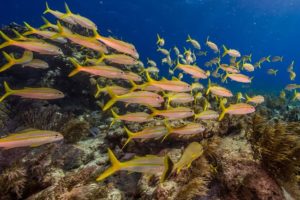 The beautiful marine life and the spectacular underwater landscape has always fascinated people. Underwater tours are gaining popularity among travellers. You can have a unique vacation experience by taking an underwater tour.
Here are some cool underwater destinations that you might want to try out.
Great Barrier Reef
What makes Australia's Great Barrier Reef special is the fact that it is the largest natural coral reef in the entire world. Here you can find more than 3,000 individual reef systems and home to a wide variety of marine life. You can swim, snorkel, dive and sail this iconic diving destination.
Underwater Museum of Art
This stunning tourist destination in Cancun is the worlds most famous underwater sculpture museum. Scuba dive in this incredible place and you are in for a one-of-a-kind underwater tour of the world's largest underwater museum. The stunning art of more than 500 full-scale sculptures are the works of famous sculptor Jason de Caires.
The underwater museum is designed as an alternative tourist spot to protect the local reefs from over tourism. You can enjoy snorkeling in the underwater museum or enjoy viewing on board a glass-bottomed boat.
Atlantis at the Palm
This unique and chic hotel that offers a spectacular underwater experience is located in Dubai. In this hotel, you'll find the Lost Chambers, a system of tunnels that features marvellous views of the most distinct collection of aquatic creatures.
In some chambers, visitors can dive, interact with the sea creatures and feed them. Inspired by the Lost City of Atlantis, guests will enjoy the feel of a lost civilization full of ruins and shipwrecks.