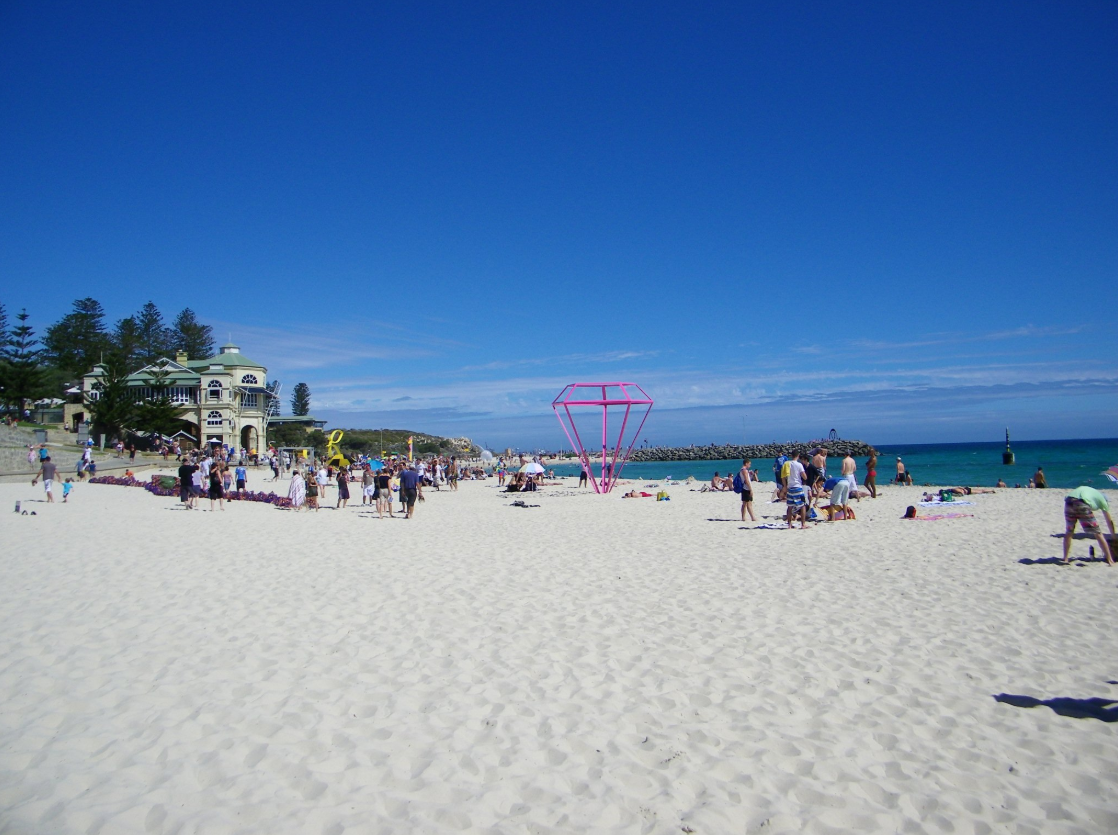 If you're ever in Perth, and you find yourself wanting to feel warm beach sand under your bare feet, & some hot sun, consider taking a trip out to Cottesloe Beach. The sand there is white and soft, and the ocean is inviting and full of activity. If you want to simply kick back and relax, that's perfectly fine. Just pick your spot somewhere along the kilometer-long expanse of beach. But if you also want to try your hand at some swimming, surfing or some other water activity, Cottesloe Beach can deliver excellent experiences as well. And at the end of the day, you can watch the sun set the sky ablaze with color, before it drops below the horizon.
Swimming, Surfing and Snorkeling
If you'd simply like to walk along the beach, or wade out into the shallow water, the main beach is a good place to do that. While you're there, you might also want to give beach cricket a try. Now, if you'd like to put on a mask and snorkel, and take in the beauty of life under the water, you can head for the more northern section of the beach. That area has clear water and abundant marine life, so that any snorkeling you do will be colorful and interesting. However, if you're more into physical activity above the water, you can head for the beach's southern section, which is where surfers and kitesurfers like to gather. And every so often, kayaking contests are also held at Cottesloe Beach.
Art on the Beach
Cottesloe Beach is also home to the annual Sculpture by the Sea event. It's pretty amazing to see huge art pieces and installations from dozens of international and local artists, right on the beach itself and in surrounding areas. It's essentially an art gallery on the sand and grass, and under the sun. As long as you're out there, you can take in and appreciate the various pieces, without having to worry about an entrance fee. The event happens in March of each year, so if this is something you find interesting, be sure to mark your calendar in advance.
Enjoy a Picnic on the Grass
There's a lot of space on Cottesloe Beach, so feel free to spread your things out and take a break. Now, if you're looking to get away from the sand for a while, but you'd still like to enjoy some good food on your blanket, there are grassy areas nearby where people are welcome to have picnics. There's the Cottesloe Esplanade, where large trees help to provide cover from the sun. You might even be treated to a concert, while munching on your sandwiches or enjoying your snacks. So, relax, watch people go by, listen to the birds in the trees calling out, and enjoy your vacation.
These are just some of the many things you can do at Cottesloe Beach. There's a reason people in Perth love to visit, and keep on coming back. Whether you're into swimming or snorkeling, lounging around or walking past large art installations, this beach will have something to interest and fascinate you.